Ban flammable materials from Europe's high-rises to prevent another Grenfell, say experts
Comments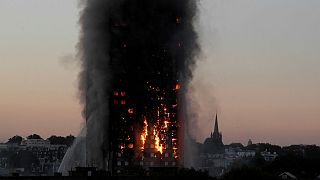 Copyright

REUTERS/Toby Melville

-
Flammable materials are still being used on high-rise buildings in Europe - six months on from a deadly blaze in London.
The rapid spread of the fire at Grenfell Tower, which killed 71 people, was blamed on its external facade and cladding.
Such facades - designed to improve a building's look and insulation - have been added in recent years, say Fire Safe Europe (FSE).
But fire safety laws have not kept pace, the group says, meaning flammable materials are still being used on high-rise buildings.
What happened at Grenfell?
The fire, which broke out in the early hours of Wednesday, June 14, began in a Hotpoint fridge-freezer.
Footage showed the blaze spread rapidly on the outside of the 24-storey tower block, trapping people on the upper floors.
The way the fire quickly engulfed the building's cladding led experts to suggest a more fire resistant insulation should have been used.
Police say 71 people were killed and they are considering criminal offences such as corporate manslaughter and breaches of fire safety legislation.
Grenfell 'just the tip of the iceberg'
FSE says there have been several blazes in Europe linked to facades in the years before Grenfell.
It says exteriors with flammable materials were linked to quickly-spreading fires in Dijon and Roubaix, both in France more than five years ago.
"We're taking fire safety for granted," Juliette Albiac, FSE's managing director, told Euronews.
"Grenfell only showed the tip of the iceberg," she added. "It's a problem that we don't think about fire safety.
"Regulators, architects, there needs to be a big awareness campaign to do education.
"All over Europe we want to have better buildings and we want them to be energy efficient. But because we want to make them better we use certain construction materials - and the conflict is when we do this we never think about fire safety."
How does Europe compare when it comes to fire safety?
Brussels has revised its legislation so that - for the first time, according to experts - fire safety is considered when thinking about the energy efficiency of a new building.
But fire is a responsibility of individual countries and there are clear differences in what is allowed.
Most countries in Europe - including Germany, Czech Republic and Croatia - ban the use of flammable materials on the facades of buildings.
But the Netherlands, Greece and Belgium have not put restrictions on individual components, according to Fire Safety Europe.
All three instead look at the facade as a whole when considering fire prevention, although Belgium is said to be revising its stance on this.
The UK, meanwhile, allows flammable materials in facades as long as the external facing one is non-combustible, according to fire safety expert Arnold Tarling.
"We're now stuffing buildings full with plastic-based insulation and cladding and the [UK] building regulations talk about reasonable, reasonable, reasonable," he told Euronews. "But when you see what they actually allow to go into buildings it's entirely unreasonable."
What should be done to improve high-rise fire safety?
Tarling and FSE both want flammable materials banned from use on high-rise buildings.
Albiac said: "For high-rise buildings it's a problem. When we're talking about high-rise buildings, they're buildings that are difficult to evacuate. One material can be completely fine for a small house but not for a high-rise building.
"You need to cancel out all risk basically and that is why we think non-combustible materials might be better for high-rise buildings.
"When we think of sustainable, energy-efficient, resource-performing buildings we don't think about fire safety in that debate."
What has Europe done to protect against another Grenfell?
Euronews asked several of the continent's capitals about the Grenfell fire to see whether any precautions had been taken.
Authorities in Madrid, Copenhagen, Budapest, Dublin and Berlin said no additional safety checks had been carried out since Grenfell.
Italy claimed checks had been carried out at "all provincial firefighters headquarters", while Athens said it regular monitors fire safety anyway.