Baby born with heart outside body survives against the odds
Comments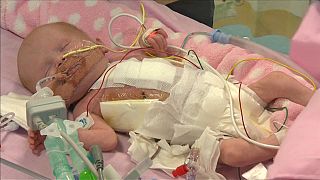 A baby girl born with her heart outside her body is believed to be the first in the UK to survive with the extremely rare condition.
Vanellope Hope Wilkins has undergone three operations, the first within an hour of her birth, since being delivered prematurely on November 22 by Caesarean section.
She was born with ectopia cordis and has no breastbone, so her heart and part of her stomach were growing externally.
Her parents, Naomi Findlay and Dean Wilkins found out about her condition 9 weeks into the pregnancy during a routine scan and were advised to terminate.
In her most recent surgery, her skin was used to cover the hole in her chest.
The next step is to take her off a ventilator, which is being used to aid her recovery from surgery.
Dean Wilkins said: "She defying everything - it's beyond a miracle."
Only eight per one million babies are born with ectopia cordis. Of those eight, 90 percent are either stillborn or die within the first three days of life.
"It was a beautiful moment, wasn't it? Absolutely beautiful. If you saw her when she was first born, to where she is now and what they've done." said Naomi.
The couple named Vanellope after a character in the Disney film "Wreck-It Ralph".
Naomi said: "Vanellope in the film is a real fighter and at the end turns into a princess so we thought it was fitting."
Glenfield Hospital says it doesn't know of any other babies in the UK who have survived the condition.
Whilst Vanellope is doing well, her prognostic is still uncertain and she has a long way to go.
For now her parents are helping feed their daughter, changing her nappies and other caring duties.
Although they haven't yet managed to cuddle their baby, they know that day will come.