Watch: Denmark silo demolition goes badly wrong crushing nearby building
Comments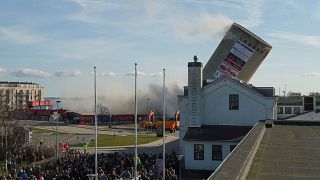 A silo crashed down onto a cultural centre in Denmark after a demolition went wrong, the country's state TV has reported.
The 53-metre structure fell the wrong way after a controlled explosion sent it plunging to the ground, destroying a building that housed a library and a music school.
No one was injured in the incident.
Video of the event shows crowds in the southern town of Vordingborg cheer as the explosion went off, then look on as the structure fell.
Thorbjørn Kolbo, chairman of Vordingborg's Culture Committee, said there was a great deal of work to do to repair the damage caused by the accident.
"If you've ever done construction at home, you know how much dust it gives off," he said. "There is a lot of cleaning work ahead."
He added that it was "a miracle" no one was hurt.
The Danish Explosives Association told news agency Ritzau that all the necessary precautions appeared to have been taken before the explosion.
Vice Chairman of the association, Johan Finsteen Gjødvad, told the Danish Broadcasting Corporation the incident was "really unfortunate".
"When you look at what was done in preparation, it (the tower) should have fallen the other way," he said.
Authorities in Vordingborg are now looking for alternative solutions for users of the building while the damage is being repaired.