UK Snow: Severe weather causes widespread travel disruption
Comments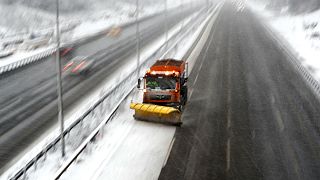 With Britain looking set for a white Christmas, the country is bracing itself for more travel disruption.
The Midlands and parts of northern and eastern England saw snow on Sunday.
In Wales, around 30 centimetres fell.
But the most snow experienced in five years grounded flights, shut down roads and severaly disrupted rail services.
At Heathrow Airport de-icing planes caused hundreds of delays and cancellations.
British Airways (BA) was the airline influenced most, with more than 140 short-haul flights and 26 long-haul flights cancelled and tens of thousands of passengers detained at the airport. 
Meanwhile, many flights from other European countries could not land on the airport, and some even had to return back to the places of departure. 
The number of passengers detained at the airports across the Europe was as many as 20,000. 
Flights were also briefly suspended at Birmingham and other London Airports.
Rail travel was also seriously disrupted in the Midlands and on trains to and from Oxford .
Emergency services had to attend to several incidents on snow-covered roads in the Midlands.
Police advised people to stay home unless travel was critical.
Four major subway lines in London experienced long delays, and many buses stopped service or changed routes due to the snow. 
Several thousand families in Brecon, Wales were reportedly experiencing power outages. 
Hundreds of schools have also closed on monday as temperatures drop to as low as -10C in rural areas.
The Met Office has issued yellow weather warnings of ice for some parts of the country.
Northwestern Scotland will see snow and rain during the night and southern England will see winds of up to 130 kilometers per hour, according to the alert. 
Large parts of the country will experience freezing weather after the snowfall.