How old is the EU's commercial aircraft fleet?
Comments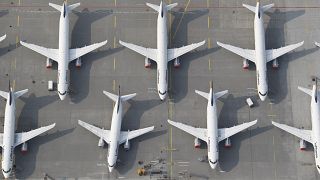 Ahead of the end-of-the-year holidays, a new study from Eurostat reveals how old, in average, the commercial planes operated by EU member countries are.
Statistics show that, out of over 6 500 commercial aircraft in the European Union, around a fifth (21 percent) of the aircraft were less than five-years-old, while 17 percent were 20 years old or more.
The study found that across the EU Member States, over half the aircraft were 20 years old or over in Croatia, Sweden, Bulgaria, Lithuania, Slovakia and  Cyprus.
Hungary is the EU country that has the largest share of its fleet made up of recent aircraft: 44 percent of the Hungarian commercial planes are less than five years old, followed by Malta (42 percent), Luxembourg (31 percent), Poland (26 percent), Germany and Ireland (both 25 percent).
However, experts explain that older planes are not necessarily 'unsafe' to fly. The maintenance given by airlines often defines how safe the plane is.
"'How old is too old' is often up to the airlines. I would feel very safe in a 25 year or more old plane if it belonged to an airline with high maintenance standards," aviation analyst Alex Macheras told Euronews.
Macheras explained that airlines' need to renew the fleet comes from the costs and complexity of maintaining older aircraft. Spare parts become harder to find and updating older planes to meet today's standards can be challenging.
"Older jets are subject to the same safety requirement standards as gleaming new jets. Meeting requirements with older planes can be a hard task - given that you're adapting 25-year-old 747 technology to be at the same standard as a two-week-old A350," he said.
Macheras added that other than maintenance costs, older planes are more expensive to keep because they are not as fuel efficient and are subject to higher taxes at the airport as a result.
"With this in mind, keeping older planes in an airline fleet isn't ideal, and in an industry where every cost is accounted for, it's often more sensible for airlines to invest in new jets and reap the rewards of efficiency, comfort and up-to-date technology."
**While for airlines benefits from newer fleets are related to cost and efficiency, for passengers it's mostly about comfort: quieter cabins, mood lighting, and smoother flights. **
There's a good news for Europeans according to Macheras: on a global level, Europe's airplanes are reputed for being new, which is partially due to the age of the airline companies themselves.
"In Europe, our airlines tend to be much younger, with many low-cost carriers that tend to order factory-fresh aircraft".
The charts below show how the commercial aircraft fleets of different EU countries compare in terms of age.