Friday prayers flashpoint feared over Trump Jerusalem move
Comments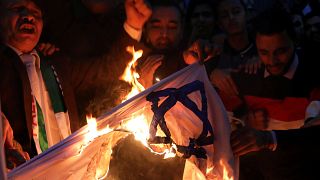 After clashes in the West Bank and Gaza on Thursday, an even bigger eruption of violence is feared during Friday prayers, as Palestinians protest US President Donald Trump's recognition of Jerusalem as the capital of Israel.
The Muslim shrine of Al-Aqsa mosque in the city could be a flashpoint, with the Islamist group Hamas calling for a new uprising or intifada.
It is a call backed by Lebanon's Hezbollah.
The group's leader Hassan Nasrallah said that "escalating the resistance" would be "the biggest, most important and gravest response" to an American decision, which he said amounted to an act of "blatant aggression" against the Arab and Muslim world.
In Thursday's confrontation between Palestinians and Israeli troops, at least 31 people were wounded by Israeli gunfire and rubber bullets, medics said.
Some protesters threw rocks at soldiers and others chanted: "Death to America! Death to the fool Trump!"
The Israeli military said an aircraft and a tank had targeted two posts belonging to militants in the Hamas-ruled Gaza Strip after three rockets were launched at Israel.
Trump's reversal of decades of US policy has sparked fury in Egypt where protesters voiced their anger in central Cairo on Thursday.
Hundreds gathered outside the US embassy in Ankara. Turkey's President Recep Tayyip Erdogan has said that Trump's declaration tramples on international law.
Protesters also marched through the Palestinian Baqaa refugee camp near Amman in Jordan.
Israel considers Jerusalem its eternal and indivisible capital.
Palestinians want the capital of an independent state of their own to be in east Jerusalem, which Israel captured in 1967 and annexed in a move never recognised internationally.
Trump said on Wednesday that his administration would begin a process of moving the US Embassy in Tel Aviv to Jerusalem, a step expected to take years and which his predecessors had opted not to take in order to avoid inflaming tensions.
The status of Jerusalem, home to sites considered holy to Muslims, Jews and Christians, is one of the biggest obstacles to a peace agreement between Israel and the Palestinians.
with Reuters