Shakhtar Donetsk boss celebrates win over Man City by going full Zorro
Comments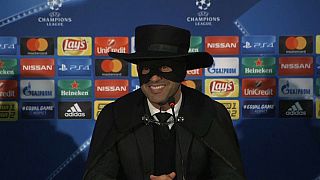 He said he would dress up as Zorro if his team won and Shakhtar Donetsk boss Paulo Fonseca has stuck to his word.
After the Ukranian side's 2-1 victory over Manchester City, Fonseca donned a mask, hat and cape in the style of the famous vigilante.
The Portuguese coach said it was "the most joyful press conference of his career."
Shakhtar Donetsk's victory ends the English club's unbeaten record in all competitions this season and secures them a place in the Champions League last 16.