Catalan separatists march in Brussels
Comments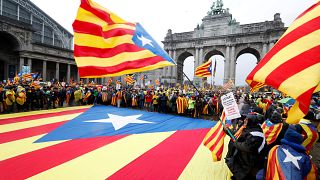 Tens of thousands of Catalan separatists marched in Brussels on Thursday to show support to their ousted leader Carles Puigdemont, who faces arrest in Spain and is currently in Belgium.
Before Puigdemont addressed the crowd, Brussels police said about 45,000 people attended the rally, many draped in Catalan flags.
The demonstration came two weeks ahead of regional elections in Catalonia, which Madrid called after it sacked Puigdemont for having organised a banned independence referendum.
There were chants of "Puigdemont, President" from the crowd of demonstrators, many of whom travelled from Spain for the occasion.
Several buses came straight from Barcelona to Brussels' Parc du Cinquantenaire, which was created to mark the 50th anniversary of Belgium's independence from the Netherlands.
Some protesters carried placards criticising the European Union for not pressuring Madrid.
One sign showed the face of European Commission President Jean-Claude Juncker with the question: "Democracy? Some defend it when it suits them. Shame on them."
Many Catalans are pro-European but they feel let down by the EU's refusal to mediate their conflict with Madrid.
Puigdemont, who is facing arrest in Spain for organising an illegal independence referendum in October, told a news conference on Wednesday (Dec. 6) that he would stay in Belgium for the time being.
His party, 'Together for Catalonia', is campaigning on a pro-independence ticket for the December 21 elections called by Madrid in an effort to resolve the crisis.