Brexit deadline looms for Theresa May
Comments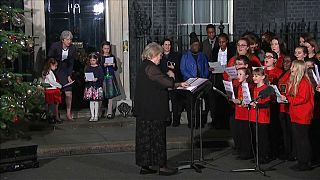 72 hours was the deadline given to Theresa May by the EU to come up with a workable solution to the Irish border after Brexit. She'll surely be hoping for an early Christmas present in the form of agreement from her DUP ally in Northern Ireland and Europe.
But with less than a week to go before EU leaders meet to discuss moving Brexit talks on, the Dutch Prime Minister stood beside the Irish Prime Minister at a press conference, showing a united front and warned that the impact of a hard Brexit would be "infinitely bigger" on the UK than on the bloc.
Euronews met with David Campbell Bannerman, a Conservative MEP who thinks that it shouldn't be too much of a stretch to come to an agreement.
'Britain is the second largest importer of goods and services in the world after the United States. We're the top export destination for the EU 27, the rest of the EU. So it's worth the EU doing a deal and we want a deal. We want access to European markets on good terms as we have now. It would be crazy economically for the UK or the EU to walk away from a deal. If this is not resolved, I think by the end of the year, then we may well have to go for World Trade Organisation rules from January next year.'
But if no deal is reached, the future will be totally unknown for the UK, as revelations have come out that the government hasn't even done any impact assessments for the country, should this happen.