Dozens injured in a train collision in Meerbusch, Germany
Comments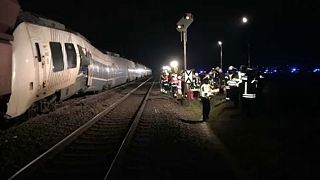 Several people have been injured in a train crash near the city of Düsseldorf in Western Germany.
A passenger train is said to have collided with a freight train in the town of Meerbusch.
Around 150 passengers were on board at the time of the crash which happened at 19.30.
The local fire department has put the number of injured at around 49, three seriously.
Access to the crash site had been made difficult due to broken power cables with a risk of an electric shock.
It's not known why the two trains were on the same line at the same time.