How many missiles, nuclear weapons and submarines does North Korea have?
Comments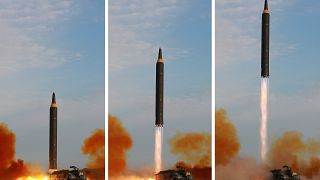 Tensions continued to rise around North Korea's missile tests and earlier today (September 19), US President Donald Trump threatened to "totally destroy" Kim Jong-Un's country if it continued to put the "entire world" in danger.
On Friday (September 15), North Korea fired a missile over Japan, the second in the space of a month.
This missile was suspected to be the Hwasong-12, meaning Mars-12, an Intermediate-range Ballistic Missile (IRBM).
North Korea has made other headlines for its military activity this year.
In July it launched Hwasong-14, what is claimed to be its first Intercontinental Ballistic Missile (ICBM), that is, a missile that can hit a target thousands of kilometres away.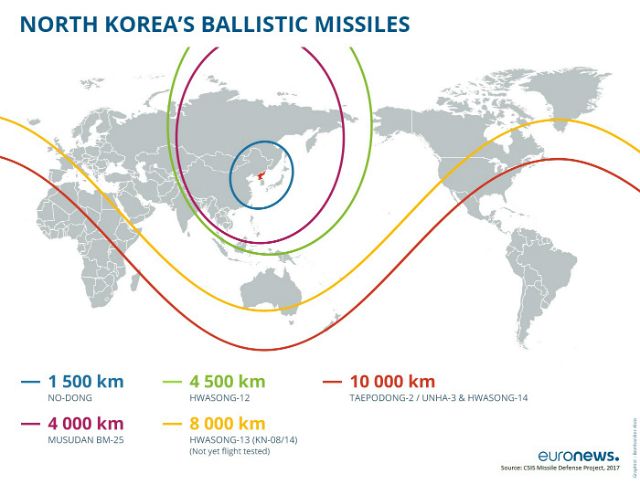 ICBMs are ideal for carrying powerful nuclear weapons.
They travel in an arc and carry the weapon into space. At 800-1,600 km from Earth's surface, the payload is released and heads back towards the atmosphere for detonation.
These projectiles are also hard to take down because of their size and speed.
No one is sure if such defence technologies even exist.
Pentagon spokesperson Navy Captain Jeff Davis told Reuters that tests on these defence mechanisms have given "mixed results" so far.
Towards the end of Kim Jong-il's regime and throughout the current leader Kim Jong-Un's rule there has been a notable increase in missile launches and in the investment concerning weapons of mass destruction.
The focus has turned particularly towards increasing the range of ballistic missiles as well as the miniaturization of its nuclear weapons.
North Korea has performed six successful nuclear tests, all within the last 11 years.
Each bomb seems stronger than the last, according to the earthquake magnitude recorded in the area during each test.
Analysts aren't entirely sure about which type of bombs were being tested.
Hydrogen bombs are more powerful and merge atoms to release energy, whereas less powerful atomic bombs split atoms instead.
North Korea claimed that the 2016 nuclear test used a hydrogen bomb but that has been contested by experts.
A clear focus on technologies of mass destruction has left North Korea's conventional military capabilities obsolete and outdated, according to specialists, however, the size of its military is far from negligible.
North Korea's armed forces are said to consist of 1.19 million service members and 7.7 million reserves.
An unclassified report released in 2015 by the Department of Defense of the United States gave detailed estimates on Kim Jong-Un's Ground, Air and Naval forces.
To put these figures in context, the US army is said to have 1.4 million active personnel, 9,000 tanks, 14,000 aircraft, 920 helicopters and 72 submarines.
The report also states it doesn't disregard North Korea's possession and development of biological weapons, although not much else is said on this matter.
One thing is for sure, "rocket man" Kim Jong-un's nuclear tests and military parades have caught the world's attention.