Ex Trump adviser Flynn pleads guilty on Russia
Comments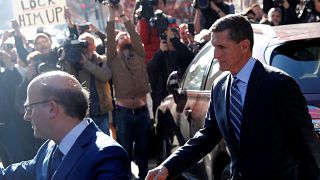 Donald Trump's former national security adviser Michael Flynn pleaded guilty on Friday to lying to the FBI about his contacts with Russia and agreed to cooperate with prosecutors delving into whether Trump's inner circle colluded with Moscow to win the 2016 election.
Flynn is the first senior White House official to cooperate in the special counsel's investigation into alleged Russian meddling in the US presidential election.
A former senior member of Trump's campaign team, Flynn admitted in a courtroom in downtown Washington that he gave false statements to the FBI about his contacts with Russian Ambassador Serguei Kislyak before Trump took office.
The charge carries a sentence of up to five years in jail but his plea deal should ensure he faces no more than six months.
Flynn didn't speak in court, other than to say he would plead guilty.
Prosecutors said Flynn consulted with a senior official in Trump's presidential transition team before speaking to the Russian envoy.
That senior official was Jared Kushner, Trump's son-in-law and White House adviser, NBC News reported, citing two people familiar with the matter.
'Witch hunt'
Flynn's decision to take a plea deal and cooperate with the investigation led by Special Counsel Robert Mueller marks a major escalation in a probe that has dogged Trump's administration since he took office in January.
The White House said Flynn's guilty plea implicated him alone.
Flynn was forced out of his job in February for misleading Vice President Mike Pence about his conversations with the Russian ambassador last December.
Moscow has denied what U.S. intelligence agencies say was meddling in the election campaign to try to sway the vote in Trump's favour. Trump has called Mueller's probe a witch hunt.
He is the second former senior aide to Trump to be charged in the Mueller probe.
Paul Manafort, who ran Trump's presidential campaign for several months last year, was charged in October with conspiring to launder money, conspiracy against the United States and failing to register as a foreign agent of Ukraine's former pro-Russian government.
Manafort, who did not join Trump's administration, and a business associate who was charged with him, pleaded not guilty.
With Reuters