Bosnian Croat courtroom suicide probed
Comments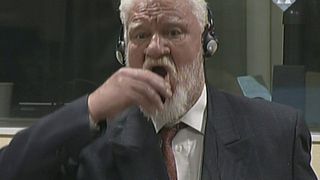 -
Traces of chemicals which could cause death have been found during initial tests on the container used in an apparent UN courtoom suicide, Dutch prosecutors said on Thursday.
Slobodan Praljak, 72, died on Wednesday at a hospital in The Hague within hours of drinking a vial of liquid during the reading of his appeals judgment at the International Criminal Tribunal for the Former Yugoslavia (ICTY).
The inquiry is focusing on whether someone helped the former Bosnian Croat military commander obtain them.
"Helping someone to commit suicide is a criminal offence in the Netherlands, so this is one of the focus points in the inquiry," Marilyn Fikenscher, Dutch Public Prosecutor in charge of the inquiry, told Euronews.
"We will also investigate if the chemical substance was legal or not. We just started the investigation so I cannot say anything about it. Of course, we see the urgency of this matter and we do the best we can," she added.
Croatian newspapers on Thursday focused on a lack of security measures at the tribunal, which closes next month after 24 years.
"A horrific end for The Hague Tribunal", read the front-page headline in the Jutarnji List daily, which like all papers ran a prominent photo of Praljak swallowing poison.
Escaping justice?
Two other defendants awaiting their ICTY trial, both Serbs, have previously committed suicide in detention, according to court documents.
Banned medication was also found in the cell of former Serbian President Slobodan Milosevic, who died of a heart attack before his verdict in 2006. The drugs may have worsened an existing heart condition.
Asked whether Praljak had effectively escaped justice by taking his own life, ICTY spokesman Nenad Golcevski said: "I would not agree with that."
"Mr Praljak has had his judgment delivered, his responsibility for the crimes committed in Bosnia-Herzegovina has been confirmed by the appeals chamber," he said.
"They have also affirmed his sentence to 20 years of imprisonment. So he has received the sentence. I would not say that he has escaped justice in any way."
The court upheld on appeal Praljak's conviction on charges of crimes against humanity over the persecution, murders and expulsions of Muslim Bosnians during the 1992-1995 Bosnian war.
Emotional reactions in Bosnia to Praljak's death highlighted lasting division in the Balkans, where the court had aimed to bring reconciliation, but convicted war criminals are often revered as heroes.