Pope urges Myanmar to resist 'revenge' in first mass
Comments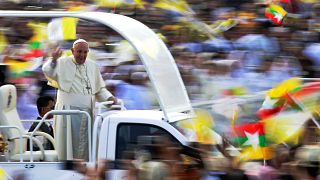 -
Pope Francis staunchly defended the rights of ethnic minorities during his first mass in Myanmar.
Around 150,000 people attended the pontiff's public mass in Yangon.
He is the first from the Vatican to visit the southeast Asian country.
The Catholic community makes up just one per cent of the predominantly Buddhist nation.
But the Pope's visit has been largely overshadowed by the plight of Rohingya Muslims.
Warning long-suffering ethnic minorities not to seek revenge, Pope Francis said: "I know that many in Myanmar bear the wounds of violence, wounds that are both visible and invisible. We think that healing can come from anger and revenge. Yet the way of revenge is not the way of Jesus."
During his delicate visit, the Pope has avoided using the term Rohingya, which is rejected by Myanmar's government and military.
Human rights groups have pressurised Pope Francis to use the term but church leaders told him doing so would only aggravate the situation and put the country's Catholic minority at risk.