Pope fails to mention Rohingya in speech
Comments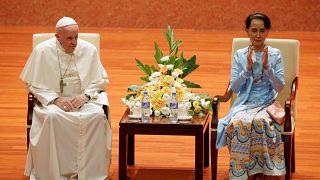 Pope Francis failed to mention Myanmar's Muslim Rohingya minority as he stood on stage with the country's civilian leader, Aung San Suu Kyi.
The Pope's meeting with Suu Kyi was the most anticipated of his visit, given the international outcry over the crackdown on the Rohingya.
In her welcome address, Suu Kyi said the country faced many challenges.
"As we address long-standing issues, social, economic and political, that have eroded trust and understanding, harmony and cooperation, between different communities in Rakhine, the support of our people and of good friends who only wish to see us succeed in our endeavours, has been invaluable," she said.
The Pope avoiding the Rohingya by name called for unity and tolerance.
"Indeed, the arduous process of peacebuilding and national reconciliation can only advance through a commitment to justice and respect for human rights," he said.
The south-east Asian country has been accused of ethnic cleansing with over 600,000 Rohingya fleeing to neighbouring Bangladesh since August.