China looks to new Silk Road through Eastern Europe
Comments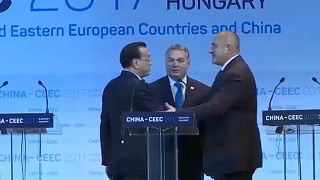 Chinese Premier Li Keqiang has arrived in Budapest, where he is meeting with leaders of the 16 Central and Eastern European Countries – or CEEC.
On the agenda at the sixth annual 16+1 summit, China's "new Silk Road" initiative to expand trade across Asia, Africa and Europe.
Hungarian Prime Minister Viktor Orban is also keen to pursue an "Eastern Opening" policy.
"We need external sources both technical and financial in order to improve this region," Orban said during a speech at the summit. "The European sources are just not sufficient so we welcome the idea of a new economical world order as China wants to get involved in the region's development process."
The 17 leaders are set to sign 23 cooperation agreements during the summit. They will also discuss how to promote cooperation in areas including trade and investment, finance, and technology.
Hungary is set to publish tenders for the reconstruction of a railway line between Budapest and Belgrade. China is financing the line which it plans to use as part of a new corridor to export goods to Europe.
"In the next five years, China wants to import 5 trillion dollars worth of goods," Li announced. "During the same period, our investments will reach 700 billlion dollars."
Officials in Brussels have expressed concern that the summit risks undermining EU cohesion and have called on member states to speak with a single voice in all their dealings with Beijing.
Orban's pivot toward Asia is seen as an effort to discredit criticism from the European Union that says he is undermining democratic principles.