US and Russia row over media laws
Comments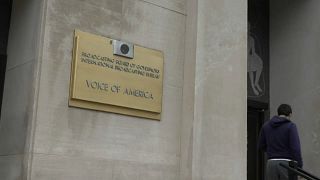 Two US funded international media outlets have criticised a media law signed by Russian President Vladimir Putin that will list them as foreign agents.
Russian authorities can also reveal who funds them, which in the case of Voice of America is the US government.
The law was rushed through the Russian duma in retaliation for similar restrictions that have been imposed on Russian media outlets in the US.
In a statement the head of VOA said: Any characterization of such steps as reciprocity for U.S. actions severely distorts reality.
"Russian media are free to operate in the United States and can be, and are, carried by U.S. cable television outlets. However, U.S international media, including VOA and RFE/RL, are banned from television and radio in Russia."
BBGCEOjohnlansing</a>'s statement regarding the Russian Federation's media law <a href="https://t.co/zWdDS4QrnO">https://t.co/zWdDS4QrnO</a></p>— BBG (BBGgov) November 25, 2017
Last week the US Department of Justice forced Russian funded TV network Russia Today and Sputnik news agency to register as foreign agents under anti-propaganda laws.
A US intelligence report has accused both outlets of siding with Donald Trump and against Hillary Clinton in their US election campaign coverage.