North Korea and Cuba reject 'US demands'
Comments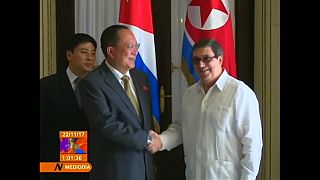 The Cuban and North Korean foreign ministers have expressed concern about growing tensions on the Korean peninsula, but have rejected so-called 'unilateral and arbitrary' demands made by the US.
Pyongyang is seeking support amid unprecedented pressure from Washington and the international community to cease its nuclear weapons and missile programmes.
It has made no secret of plans to build a missile capable of striking the US mainland, but has remained friendly with Cuba, leading some experts to believe the island nation may be able to persuade North Korea to rethink its current strategy.
Pyongyang's weapons and missile project contravenes UN Security Council resolutions.