South America to host 40th Dakar rally
Comments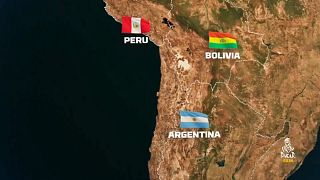 The Dakar rally will roar through South America for its fortieth edition this January, travelling nine thousand dusty kilometres across Peru, Argentina and Bolivia.
Three hundred and thirty seven motorcycles, quads, cars and trucks will enter a race of full of risk and beauty.
? ? Reminder: here is the official route of the #Dakar2018
/ Recordatorio: este es el recorrido oficial del #Dakar2018
?? peru</a> <br>?? <a href="https://twitter.com/DakarBoTeEspera?ref_src=twsrc%5Etfw">DakarBoTeEspera
?? VisitArg</a> <a href="https://t.co/XVxFFM19nN">pic.twitter.com/XVxFFM19nN</a></p>— DAKAR RALLY (dakar) November 22, 2017
In the motorbike category Englishman Sam Sunderland riding for KTM is favourite to win.
And in the car category the man to watch is thirteen times winner Stéphane Peterhansel driving a Peugeot who's been dubbed "Monsieur Dakar."
But Frenchman Sebastien Loeb wants to gain his third Dakar victory, after managing second place in 2017.
They'll all tackle the coastal sand dunes of Peru before enjoying the shoreline of Bolivia's lake Titicaca.
And right from the start line in the Peruvian capital Lima, they'll be praying they can make it to the finish line in Cordoba, Argentina on January 20th.