Easyjet gets a boost from Ryanair woes
Comments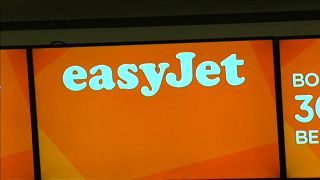 EasyJet said on Tuesday it expected its fares to rise this winter, helped by the collapse of its rival Monarch Airlines and a spate of cancellations at Ryanair.
EasyJet flew a record 80.2 million passengers this past year – almost 10 percent more than in 2015-2016.
However, profits dropped 17 percent to 408 million pounds (460 million euros), hurt by the slump in the pound since the Brexit vote.
Still, the overall picture looked good, EasyJet shares rose more than 5 percent and departing CEO Carolyn McCall said that despite a difficult year she was leaving the airline in good shape.
Analysts now hope her successor Johan Lundgren – a former executive at travel group TUI – will keep a tight rein on costs when he takes over on Dec. 1, when he must also quickly get to grips with the airline's planned purchase of parts of Air Berlin operations.
It's been a tumultuous year for the European airline industry, with Monarch, Air Berlin and Alitalia all going into administration in recent months.