11 things you didn't know about Charles Manson
Comments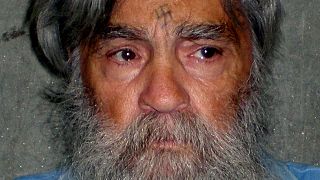 Charles Manson, the notorious cult leader and convicted murderer, has died in a California hospital. He was 83.
The grisly crimes committed by Manson and his followers, 'The Family', have been pored over and dissected in the decades since they were committed, and Manson himself has assumed a nefarious position in the pantheon of pop culture. While Manson's deeds have reverberated around the world, some aspects of his story remained out of the limelight. Here are 11 facts about the man and his crimes you may not know.
A life behind bars
Charles Manson spent approximately 60 of his 83 years in prison. His first conviction for armed robbery came at the tender age of 13, and by the time he was 32 he had been incarcerated for a total of 17 years.
A wayward mother
While Manson never knew his father, his alcoholic mother played a disruptive role in his early life. Stories abound that she sold him to a childless waitress in exchange for a pitcher of beer while he was just a toddler – a situation his uncle rescued him from shortly after. Along with his brother, Manson's mother was sentenced to five years in prison in 1939 for robbing a gas station using a ketchup bottle.
A brush with the Beach Boys
Charles Manson's musical aspirations and his failure to achieve them are well-established. Less well-known is the fact that a version of one his songs made it on to a Beach Boys album. A fleeting friendship with drummer Dennis Wilson saw the band record a version of Manson's song, 'Cease to Exist' which they reworked heavily and retitled 'Never Learn Not to Love'. The song appeared on the band's 1969 album 20/20 and as the B-side to single, 'Bluebirds Over the Mountain'. Manson did not receive a writing credit.
A pertinent rejection
In 1968, Charles Manson's music was rejected by record producer Terry Melcher, the son of Doris Day. At the time, Melcher lived in the Benedict Canyon residence which would later be rented by Roman Polanski and Sharon Tate. It was to this address that Manson dispatched his followers to commit the atrocities that would also account for the murder of the heavily-pregnant Tate.
A gruesome typo
It's well-known that Manson was obsessed with The Beatles, in particular the track, 'Helter Skelter' which appeared on the band's 1968 release The White Album. Manson interpreted the song's lyrics as a warning of a coming race war, an analysis he keenly drummed into his followers. At the scene of the murders in Benedict Canyon, the Family daubed messages on the walls using the blood of the victims, including the misspelled 'Healter Skelter'.
Lawyer's mysterious end
During the trial of Manson and his followers, one of the defending lawyers, Ronald Hughes, disappeared while on a camping trip. His body was found three months later but no cause of death could be determined, and no one has ever been charged inn connection with his death.
President's outburst almost sank trial
Having an overly-vocal President is nothing new. With Manson's trial ongoing, then President Richard Nixon was quoted in the press as saying that Manson was, "guilty, directly or indirectly". Manson seized on the words, brandishing a newspaper front page during his trial which carried the headline "Manson guilty, Nixon declares". Manson's lawyers pushed for a mistrial, but were ultimately unsuccessful.
Dodged the gas chamber
Manson and his group were sentenced to death in the gas chamber for their crimes, but the sentences were commuted to life imprisonment when California's supreme court abolished the death penalty in 1972.
Attempt to kill the President
Although not directly involved with the Manson Family murders, Lynette 'Squeaky' Fromme was a Manson devotee who camped outside the trial. In 1975 she attempted to assassinate President Gerald Ford, anger at the plight of California's redwoods reportedly her motive, but her gun jammed. She served 34 years in prison.
Assault in prison
In 1984 a fellow prisoner of Manson, Jan Holmstrom, attempted to kill him by pouring paint thinner over him and setting him alight. Holmstrom said the attack was prompted by Manson's objections to his Hare Krishna chants.
Royalties denied
In the 1990s, Guns N' Roses recorded a version of a Manson song, 'Look at Your Game Girl' which appeared on the band's album, The Spaghetti Incident? For a period, it seemed that Manson would benefit financially before legal action from Bartek Frykowski, the son of one of Manson's victims, saw the royalties instead paid to him as reparation for his father's death.