Kenya: Uhuru Kenyatta's election victory upheld
Comments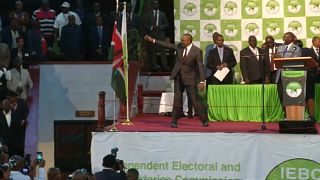 Kenya's Supreme Court has upheld the election victory of President Uhuru Kenyatta. The unanimous decision paves the way for him to be sworn in next week (November 28).
There had been two legal challenges to the vote, which was held for a second time in October after August's ballot was invalidated.
Supporters of Kenyatta took to the streets in celebration, but the opposition NASA coalition insists the government is illegitimate.
Protests broke out in one Nairobi neighbourhood, killing at least four people police say. Rights groups estimate around 66 people have died in violence related to the elections.