Drought hits Portugal's honeybees
Comments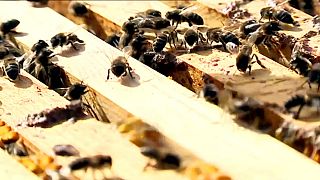 There is little of Portugal's agricultural sector that hasn't been affected by the country's ongoing drought – and honey production is no exception.
The extreme weather has hit crops and wildflowers where bees would normally collect the pollen and nectar they use to make honey.
"It was a bad year because we had a very dry spring, followed by a very hot and dry summer and no autumn," says beekeeper Luis Correia. "For three months, our bees couldn't collect any nectar – so it's been a year of hunger for them – and very weak in terms of apiculture."
Because of the dearth of natural food, beekeepers are resorting to feeding their colonies with patties made from pollen and essentials oils. Correia has already bought 1,000 kilos of the substitute but says it's still not enough.
His 600 beehives normally produce some eight tonnes of honey a year; but so far this year he's only collected just over two.
Nationwide, Portugal's honey production has decreased by about 80 percent.