Germany parties meet for final round of talks
Comments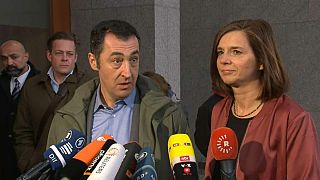 Germany's three would-be coalition partners have continued a final round of exploratory talks to seek enough common ground to form a 'Jamaica Alliance.'
The negotiations in Berlin cover a number of points of conflicts, particularly on climate change and immigration.
Incumbent chancellor Angela Merkel's only realistic hope of securing a fourth term after suffering losses in September's election is an awkward three-way conservative-liberal-Green alliance.
But after four weeks of talks, the parties remained far apart as they adjourned for the night.
The biggest sticking points are climate change, where the Greens want emissions cuts that the other parties see as economically ruinous, and immigration, where Merkel's arch-conservative allies in Bavaria insist on stricter rules.
"This is an important day today. We are negotiating now. We are also ready to take responsibility even in a very very difficult situation." said head of Bündnis 90 / Die Grünen Katrin Göring-Eckardt.
"Taking responsibility for the country is what it's all about now. And clearly we will negotiate for as long as necessary."
A self-imposed deadline of Thursday for wrapping up exploratory talks and starting formal coalition negotiations passed without agreement, forcing the conservatives to promise further concessions on emissions cuts to the Greens.
All parties are anxious to avoid a repeat election, which they fear could boost the far-right AfD party, which surged into parliament for the first time in September's national election.
But the heterogeneous three-way coalition, made necessary after the conservatives and the centre-left suffered punishing election losses, is untested at national level.