Tillerson calls for Rohingya probe
Comments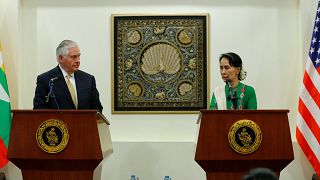 U.S. Secretary of State Rex Tillerson has called for a credible investigation into reports of human rights abuses against Rohingya Muslims by Myanmar's security forces.
Tillerson held talks with the army chief whose forces have been accused of atrocities against the Rohingya. He also met Myanmar leader Aung San Suu Kyi.
Defending criticisms of her silence on the conflict, Myanmar's leader said she aimed to keep the public informed without setting different ethinic and religious communities against each other.
Back in Washington, U.S. senators are pressing for economic sanctions and travel restrictions targeting the Myanmar militaryand its business interests.
But following his meeting, Tillerson said he would advise against any broad-based sanctions against Myanmar, as the US wanted to see the country succeed.
More than 600,000 Rohingya Muslims have fled to Bangladesh since late August, driven out by a military counter-insurgency clearance operation in Buddhist-majority Myanmar's Rakhine State.
A top UN official has described the military's actions as a textbook case of "ethnic cleansing."