Camp crisis on Lesvos as new refugee surge adds pressure on Greece
Comments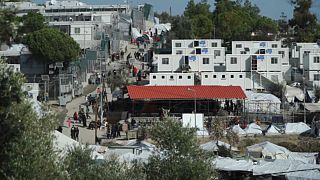 A refugee and migrant surge reaching the Greek islands of the North Aegean has seen more than 1,150 people arrive in the first 10 days of this month.
More than half of them reached Lesvos, where the Moria camp, built to shelter 2,300 people, is currently home to 5,500.
In more then 1200 tent live the majority of the 6000 #refugees inside the #moria#hotspot in #Lesvos. How many more dead people need the #Greek authorities, #UNHCR & #EU to release the people to go? #OpenTheIslandspic.twitter.com/TnDrBcwqnm

— City Plaza Squat (@sol2refugees) 11 novembre 2017
Living conditions are unbearable, says 20-year-old Farooq Cheema from Pakistan, here for the last 16 months.
"Too many people. They have to leave Lesvos, they don' t want this life. For refugees, there is nothing here. No space, no treatment, no clothes. Every night, there are fights in the camp. The police come and just watch," he complains.
Just behind the camp "a sanitary time bomb" is ticking. Kids walk around and play in a dump, while no one seems to be in charge of cleaning. Many refugees are sick and terrified of the winter which is coming. Some newcomers like 16-year-old Sarah Nawabi from Afghanistan feel betrayed and shocked.
#Greece Municipality of #Lesvos to hold general strike on 20 Nov. as protest to #refugee policies. 8170 #refugees are held on the island. 106 new arrivals in past 24 hours. Winter is coming. Heavy rain is already here.

— Bruno Tersago (@BrunoTersago) 15 novembre 2017
"We didn't think it would be like this. If we knew, we would not have come here. Because we want a better life, we want to study and live. But here, there is nothing , I see nothing," says Sarah.
#EASO's Practical Tools on Access to the #Asylum Procedure are now available in 19 official EU languages: https://t.co/m6cENy7kVEFrontex</a> <a href="https://t.co/iIR8BcMz8a">pic.twitter.com/iIR8BcMz8a</a></p>— EASO (EASO) November 14, 2017
No one, it seems, is happy. Police officers and locals were demonstrating at the main gate.
Four police officers were arrested because two migrants due for deportation managed to escape from the camp. Police officers say that this is unacceptable. They are demanding better working conditions and complain they are severely understaffed.
10year old Zaina from Syria knows German Her father is in Germany and she is stuck in #Greece waiting for reunification for almost 2 years pic.twitter.com/UIiE2b2fas

— Liana Spyropoulou (@LSpyropoulou) November 8, 2017
"In recent months, very few migrants who had their asylum cases rejected have returned to Turkey. At the same time, dozens of refugees contine to make the dangerous journey to reach Lesvos. So once again, Moria camp is overcrowded and in a state of emergency", reports euronews' Apostolos Staikos.
£40 will keep an especially vulnerable #refugee in #Greece safe – out of a camp or the streets – in a rented flat for a month.

Can you help? https://t.co/BkjKIcOORCpic.twitter.com/MhJxhgjO1s

— Donate4Refugees (@donate4refugees) November 14, 2017