At least 15 dead in Greek flash floods
Comments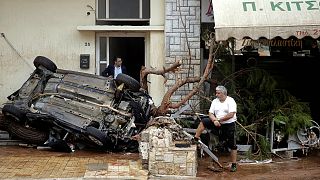 The death toll in flash floods in Greece has risen to at least 15 with scores more people homeless after a night of heavy rains.
In some areas near Athens the floodwaters rose to the first storey of small buildings and left a trail of damage in their wake.
In devastation locals said was unprecedented in scale, an overnight deluge triggered flash floods in the industrial towns of Nea Peramos and Mandra in the foothills of a mountain just west of Athens.
Prime Minister Alexis Tsipras has declared a period of national mourning and said support measures will be adopted for households and businesses affected.
Torrential rain of this type is uncommon in Greece, where poor infrastructure can leave citizens vulnerable to flooding.
It has been raining steadily for about a week, and the country's met office issued a new severe weather warning for Thursday.