Shawn Mendes shines at EMA awards
Comments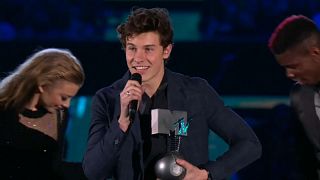 British R&B singer Rita Ora hosted the event, but the night belonged to Canadian pop singer Shawn Mendes.
He led the pack at the awards by taking Best Artist, Biggest Fans and Best song for There's Nothing Holdin' Me Back".
Other winners included Camila Cabello, who took the award for "Best Pop."
Irish rockers U2 were given a "Global Icon" award, for their decades at the top of the music industry.
Among the artists performing live at the ceremony were Stormzy, Demi Lovato and American rock band The Killers.
Look What You Made Me Do, singer Taylor Swift had been the most-nominated star of the evening, with six nominations, but failed to win any awards.
Some big names from film and television were on hand to lend Hollywood sparkle to proceedings, including Oscar winner Jared Leto, also the front man of the band Thirty Seconds to Mars that took home the award for Best Alternative act.
Canadian pop singer Shawn Mendes led the pack at the MTV Europe Music awards on Sunday night, taking home "Best Song," "Best Artist," and "Biggest Fans" awards, in a show that featured performances from French Montana, The Killers and Kesha. British R&B singer Rita Ora performed the hosting duties while U.S. rap star Eminem opened the show with a performance of his new song "Walk on Water." The Detroit rapper also took the award for "Best Hip Hop," an honour which he appeared to find slightly baffling. "Look What You Made Me Do," singer Taylor Swift had been the most-nominated star of the evening, with six nominations, but failed to win any awards. Mendes performed "There's Nothing Holdin' Me Back," the winner of "Best Song." Some big names from film and television were on hand to lend Hollywood sparkle to proceedings, including Oscar winner Jared Leto, also the front man of the band Thirty Seconds to Mars that took home the award for "Best Alternative" act. Irish rockers U2 were presented with a "Global Icon" award, in recognition of their decades at the top of the music industry. The band played a concert at an MTV event in London's Trafalgar Square the previous evening, footage of which was shown in lieu of a performance. Other winners included Camila Cabello, who took the "Best Pop." Notable performances included local London grime star Stormzy, who took to the stage poking out of the sunroof of a police