Iran-Iraq earthquake: Social media images show tragic aftermath
Comments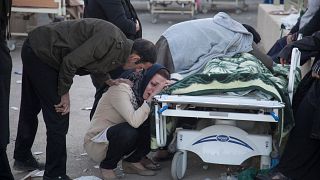 The number of the victims who lost their lives in a violent magnitude 7.3 earthquake, which struck Iran and Iraq yesterday (November 12), today continued to grow.
At midday, the figures rose to at least 336 dead and nearly 4,000 wounded, mainly in the Iranian province of Kermanshah, in the west of the country near the border with Iraq.
The hardest hit cities were Sar-e Pol-e Zahab (at least 236 dead), Qasr-e Shirin and Azgaleh.
The first photographs and videos were broadcast on social networks. Survivors of the disaster, local media, news agencies like the official Iranian agency Isna all shared on-the-ground images with the rest of the world.
Here is our selection:
The hospital in Sar-e Pol-e Zahab was completely destroyed and some users said all of its occupants, including patients and staff, were killed.
Images of buildings in ruins and families crying over lost loved ones showed the huge recovery operation Iran was facing in the aftermath of the earthquake.