Ancient Peruvian temple ravaged by fire
Comments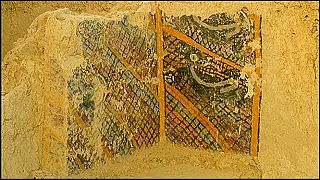 Unearthed just a decade ago, the temple of Ventarrón had stood undisturbed for four and a half millennia. It stood on a hill in Pomalca, in the Lambayeque region on the northern coast of Peru.
Its destruction was abrupt and ruthless: the poorly managed burning of nearby agricultural land set in motion a blaze that rapidly engulfed the archaeological site.
In its path not just the temple itself, but also a 2,000-year-old mural, ancient pottery artefacts, and records of the collections found on site, according to archaeologist Ignacio Alva.
#Ventarron, the oldest discovered temple in the Americashttps://t.co/1PnWTZ6gsdpic.twitter.com/2X6QIbTLcL

— Historystack (@historystack) October 19, 2016
Liability
Prosecutors have arrived in the area to establish whether administers of agricultural company, Pomalca, are liable for causing the fire when they ignited their sugar cane fields.
Firefighters have said that the blaze is 95% under control.