Watch: Massive explosion at oil pipeline in Bahrain
Comments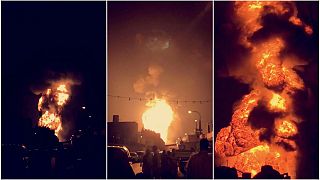 Bahrain claims a massive explosion at one of its main oil pipelines was terrorism.
Government ministers from the Sunni-muslim ruled kingdom have linked the blast to arch-enemy Iran.
Tehran has denied the allegations.
Videos on social media showed the massive fire minutes after the explosion around 10:30 pm local time on Friday (November 10).
"The incident was an act of sabotage and a dangerous act of terrorism aimed at harming the higher interests of the nation and the safety of the people," Bahrain's interior ministry said on its website.
"Terrorist acts witnessed by the country in the recent period are carried out through direct contacts and instructions from Iran," the statement quoted Interior Minister Sheikh Rashid bin Abdullah al-Khalifa as saying.
A key Western ally, Bahrain has for years grappled with protests and sporadic violence coming from its Shia majority.
In Tehran, Foreign Ministry spokesman Bahram Qassemi rejected the allegations as "false talk and childish accusations", the ministry said on its website.
Bahraini authorities said they had brought under control the fire at the oil pipeline.