Trump is widely known to opt for hamburgers, well-done steak and meatloaf - all with a side of ketchup - over more exotic cuisines.
US President Donald Trump has long had a reputation as a picky eater.
During a trip to Japan in 1990, he insisted that he would not eat a "fucking raw fish", instead opting for a hamburger at McDonald's, according to the book Lost Tycoon: The Many Lives of Donald J. Trump.
In the decades since little has changed, with Trump widely known to opt for hamburgers, well-done steak and meatloaf – all with a side of ketchup – over more exotic cuisines.
But with countries traditionally showing off their national dishes to visiting world leaders, has the fussy president broadened his tastes on his Asia tour?
Burgers
Trump was mocked online after being spotted dining out on burgers with Japanese Prime Minister Shinzo Abe.
The suited world leaders seemed deep in serious conversation as they ate the all-American lunch, made with imported US beef and accompanied by ketchup and mustard.
Imagine going all the way to Japan and eating a hamburger at a country club pic.twitter.com/thYetsb5K0

— Josh Billinson (@jbillinson) November 5, 2017
Steak and ice cream
Abe took Trump to the Ginza Ukai Tei restaurant, known for the traditional Japanese cuisine Teppanyaki.
However, the Ukai restaurant chain said Abe, Trump and their wives were served a "special menu" that included steak, scallops and a chocolate sundae for dessert.
Teriyaki chicken
In a move away from his beloved American cuisine, Trump was served some local specialities at a state dinner with Abe.
Teriyaki chicken, chawanmushi (steamed egg) and matsutake mushrooms were all on the menu at the Japanese restaurant, where Trump and his fellow diners sat on the floor on traditional tatami mats.
Soy sauce
At a banquet in South Korea, Trump enjoyed grilled Korean beef seasoned with a 360-year-old soy sauce.
The menu also included corn porridge, grilled sole, pine mushroom rice and triple chocolate cake.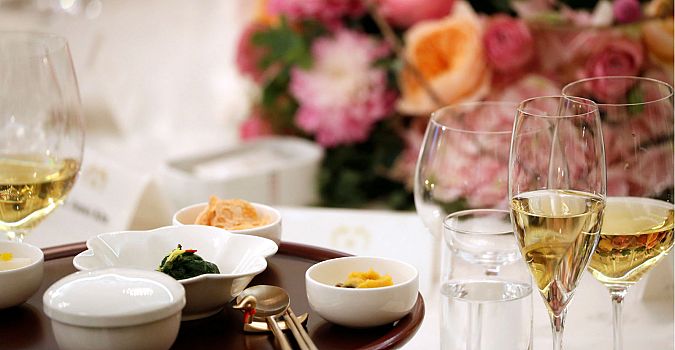 Tex-Mex
Trump joined US and South Korean troops at Camp Humphreys, the largest overseas US military base, for traditional Tex-Mex fare.
Trump praised the meal of tacos, burritos and curly fries as "good food".
It was my great honor to have lunch with our INCREDIBLE U.S. and ROK troops at Camp Humphreys, in South Korea. ???? https://t.co/5NJirz4iNMpic.twitter.com/kNLyONhBCC

— Donald J. Trump (@realDonaldTrump) November 7, 2017
Kung pao chicken
In Beijing, Trump enjoyed the popular Chinese meal kung pao chicken.
While the stir fried dish originates from China's Sichuan province, it is also a popular choice in Trump's native US.
Tonight's state banquet menu. Photo by Xiaomi founder Lei Jun pic.twitter.com/5qCswfSPvM

— 莎莎/Huang Lisha (@huanglisha) November 9, 2017