France & Germany open new WWI memorial
Comments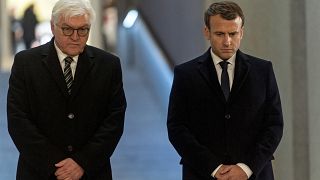 French President Emmanuel Macron and German President Frank-Walter Steinmeier have inaugurated a new memorial to the outbreak of World War One in Hartmannswiller Kopf in France.
The year after, 1915, constant battles for the hilll saw it exchange hands eight times at a cost of 30,000 lives. No-one claimed victory.
The original museum was bulit in 1932 but the new memorial provides a joint Franco-German interpretation of the events of the war.
It is a highly symbolic site both men stressed held the lessons and example of European unity between erstwhile sworn enemies, and the dreadful alternative when co-operation deteriorates and antagonisms are
allowed to fester.
It took World War Two to finally convince Europeans to stop resolving disgreements through force of arms, and today France and Germany have especially close bilateral relations.