"Venezuela is going to export peace to the world"
Comments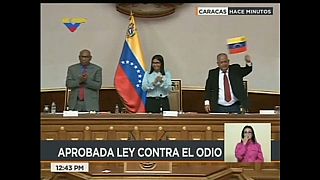 Venezuela has approved legislation to clamp down on the media.
Any outlet that broadcasts messages "promoting hate and tolerance" will be sanctioned or taken off air. Web pages will be blocked.
Television and radio licenses are now required to broadcast at least 30 minutes of programming a week that "promotes peace and tolerance" or risk heavy fines.
The country's legislative body, the "constituyente", passed the so-called anti-hate law on Wednesday.
Online outlets have six hours to remove any content violating the new rules, which come into effect immediately.
The 'anti-hate' law passed today in Venezuela seeks to end free speech in social media — a key space for Venezuelans to express themselves in a country with shrinking free speech avenues https://t.co/6UhGOtHzpl

— José Miguel Vivanco (@JMVivancoHRW) 8 novembre 2017
Why is this happening?
Analysts say Venezuela's governing socialists are looking to crack down on dissent. The country has been rocked by violent protests for most of this year.
#Venezuela: les 5 icônes de la protestation divisées sur les élections #protests | https://t.co/tIRMHS6nY6https://t.co/HFhwzrKL4apic.twitter.com/5hmdor64yC

— Lénie Blue (@LenieBlue) 14 octobre 2017
Venezuela's constituent assembly was installed in July with the aim of rewriting the constitution.
It has been persecuting some of Maduro's most strident critics. Last week, it removed the parliamentary immunity of Freddy Guevara, the vice president of the opposition-led National Assembly and one of the biggest supporters of the recent protests.
The anti-hate law also threatens to ban any political party that does not enforce the new regulations within their ranks.
Have any networks been blocked already?
Yes. Three networks have been taken off air.
Colombian network Caracol

Colombian network

RNC



CNN

in Spanish

Is it the first time this has happened?
No, The Venezuelan government has a long history of clashing with private media outlets.
Dozens of radio stations and a number of cable channels were closed after a coup attempt in 2002. The late president Hugo Chavez blamed them for their role in the botched attempt to remove him from power.
What they are saying
"This law is a tribute to those who died during the protests, a product of hatred and intolerance. Venezuela is going to export peace to the rest of the world," – Constituent Assembly President Delcy Rodriguez