EU votes against renewing glyphosate licence
Comments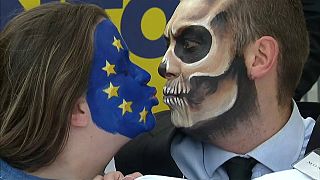 EU ministers have voted against renewing authorisation for the controversial herbicide glyphosate. Greens in the European Parliament tweeted that a proposal to continue the licence for the weedkiller had failed to gain a majority
BREAKING: no majority for #glyphosate renewal in today's vote!! Member States must put citizens' health and environment first! #StopGlyphosate

— Greens in the EP (@GreensEP) November 9, 2017
Ahead of the ballot, farmers said a ban could cost them millions of euros.
The Commission initially recommended a ten-year licence renewal, while environmental campaigners opposed any renewal at all.
Greenpeace's EU food policy director Franziska Achterberg reacted to the news.
"The Commission is trying to ram through a new glyphosate licence, despite massive scandals surrounding its main maker and the EU's own risk assessment. A new licence is a new licence, regardless of its length. If the Commission continues to allow this toxic chemical to contaminate our soils, water, food and bodies, it is simply rewarding Monsanto for obscuring the dangers linked to its weedkiller. The EU needs to ban it now, not in threem five or ten more years."
NO means NO!
EU governments again reject EU Commission push for #glyphosate.

Our comment on today's vote https://t.co/4fo4NQGmDxpic.twitter.com/IuVFH8Tsam

— Greenpeace EU (@GreenpeaceEU) November 9, 2017
France said it would oppose the five-year option, saying it would prefer a three-year renewal. Italy and Austria also expressed opposition.
Expert opinion on whether or not the weedkiller is carcinogenic varies.
Luis Morago, Campaign Director at US-based civic organisation Avaaz said:
"There may be a decision that could be a make or break for the future of glyphosate in Europe, and people are concerned. This is showing, the action today is that people are concerned about the impact of glyphosate on their health and on their children's health. And they want a ban [on glyphosate]."
US corporation Monsanto insists its Roundup weedkiller, which contains glyphosate as an active ingredient, meets European licencing standards.