Boris Johnson under fire over jailed UK-Iranian Nazanin Zaghari-Ratcliffe
Comments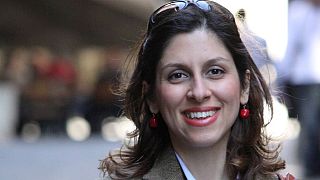 The husband of a jailed British-Iranian woman has appealed to Boris Johnson to visit his wife in Tehran as part of the effort to release her, amid a deepening row over the British foreign secretary's role in the affair.
There have been fresh calls for Johnson to quit after he inaccurately said that Nazanin Zaghari-Ratcliffe had been teaching journalism. Her family say she was in the country on holiday when she was arrested in April 2016.
Iranian media have claimed that the foreign secretary's remarks amount to a "confession" that the 37-year-old mother was spying. Last weekend Zaghari-Ratcliffe was summoned back to court, raising fears that her five-year sentence could be significantly increased.
In a video appeal published on HuffPost UK on Thursday, the woman's husband Richard Ratcliffe called on Boris Johnson to "make good the promise to go and visit Nazanin in Iran. That would send a big and important signal."
The family are concerned about the effect the latest developments will have on the jailed woman, who according to her husband was "just full of tears, really distraught" after being told at the weekend that she would be charged with "spreading propaganda against the regime". A TV report on Wednesday said Johnson's comments were seen as an "unintended confession of the UK government about the real plot" behind Zaghari-Ratcliffe's trip to Iran.
#Iran stateTV welcomes BorisJohnson</a>'s remarks ab Nazanin Zaghari-Ratcliffe (<a href="https://twitter.com/FreeNazanin?ref_src=twsrc%5Etfw">FreeNazanin) as an "unintended confession of the UK gov ab the real plot" behind her trip to Iran & a "proof" of #IRGC's accusations against her." via NarimanGharib</a> <a href="https://t.co/ZaC1T8EVqA">pic.twitter.com/ZaC1T8EVqA</a></p>— Hadi Nili (HadiNili) November 8, 2017
Some politicians, including the jailed woman's local member of parliament Tulip Siddiq, and the opposition Labour party's foreign affairs spokeswoman Emily Thornberry, have called on Johnson to resign in the wake of the Iranian media reports.
The UK Foreign Office says that Johnson has been assured by his Iranian counterpart that his remarks have had no bearing on Zaghari-Ratcliffe's case. Last week the foreign secretary told a parliamentary committee that, as he understood it, she had been "simply teaching people journalism". He has since acknowledged that he 'could have been clearer', and that the UK government was in no doubt that she was on holiday – adding that he wanted to dispute the Iranian view that "training journalists was a crime".
Last month Tehran's prosecutor-general reportedly said there was evidence that Zaghari-Ratcliffe had "links with the British government". It is thought that her plight is the result of the Iranian establishment's hostility towards the BBC. Several years ago she worked for BBC Media Action, briefly and in a junior role, according to the organisation.
However, Iran accuses her of having run a BBC Persian online journalism course aimed at spreading "propaganda" and trying to "overthrow the regime – a charge dismissed as ridiculous by those who know her.
It seems Boris's 'assurances' to Iran about Nazanin have been ignored. His errors aren't funny – for my constituent this is life and death. Please theresa_may</a> - act now to help <a href="https://twitter.com/hashtag/FreeNazanin?src=hash&ref_src=twsrc%5Etfw">#FreeNazanin</a> <a href="https://t.co/rhfgZsTEV3">https://t.co/rhfgZsTEV3</a></p>— Tulip Siddiq (TulipSiddiq) November 8, 2017
In 2016 Nazanin Zaghari-Ratcliffe spent a month in Iran visiting family when she was detained as she tried to leave Tehran. Five months later, in September 2016, she was jailed for five years by a revolutionary court. Much of her time in prison has been spent in solitary confinement and there are fears for her health. Her daughter Gabriella remains in Iran being looked after by relatives.
On Thursday Reuters reported claims that Iran's Revolutionary Guards had arrested at least 30 dual nationals over the past two years, mostly on spying charges according to lawyers, diplomats and relatives – twice as many as previously reported. There are fears that they are being held for use as bargaining chips in international relations.