Texas church shooting: Killer should not have been able to legally purchase firearms
Comments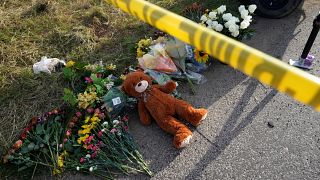 The US air-force has admitted that Texas Church shooter Devin Kelley's violent past slipped through the cracks… when an officer failed to enter the former airman's domestic violence court martial into a national database… that may have prevented him from acquiring the firearms he used to murder 26 people.
The FBI has said that the US National Institute of Corrections (NIC) system did not show any red flags when Kelley legally purchased his weapons before carrying out the attack.
Special Agent Christopher Combs, who leads the FBI's San Antonio Division said: "I know there's a lot of questions about the FBINIC system — how did the person get the weapons?
"I can tell you that for the four purchases that he made the NIC system did their required checks and there was no prohibitive information in the systems that we checked that said he could not purchase that firearm."
In the US, it is illegal under federal law to sell or give a gun to someone who has been convicted of a crime involving domestic violence against a spouse or child.
In 2012, the air force convicted Kelley for fracturing his baby stepson's skull and assaulting his first wife.
After a year in confinement, he was discharged for bad conduct and released.
A sporting goods retail chain has said Kelley passed background checks when he bought a gun in 2016 and a second firearm the following year.
Work is still underway to discover why he chose to open fire on a Sunday morning congregation at the First Baptist Church in Sutherland Springs.
Half of Kelley's victims were children – one of whom was just 18-months-old.