Car crashes into Sydney classroom, killing two children
Comments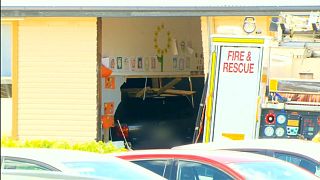 Two children are dead and three others seriously hurt after a vehicle crashed into a classroom in Sydney in Australia.
Two eight-year-old boys died at the scene of the crash and three girls were taken to hospital with serious injuries.
Sixteen other children and their teacher were treated for minor injuries.
A sports utility vehicle smashed through the wooden wall of the school in the west of Sydney.
A total of 24 primary-age children were in the classroom with their teacher.
Sydney Traffic and Highway Patrol Commander Stuart Smith told reporters: "We're not looking at this as an intentional act. It is a crash investigation, it's an active crash investigation.
"It would be only speculation that we believe we know what caused this event at this time."
The 52-year-old woman who was driving was not hurt in the crash; she was later charged with dangerous driving.