2018 Winter Olympic athletes launch anti-doping campaign #MyMoment
Comments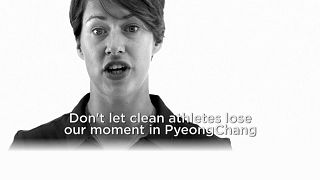 With the Olympic Winter Games fast approaching, athletes from around the world are taking part in the #MyMoment campaign to draw attention to the issue of doping.
Olympians and Paralympians from the United Kingdom, Austria, Canada, Germany, Japan, South Korea and the United States are among those supporting the movement by speaking up for the moments they've lost to doping and the moments they could gain on a level playing field.
As part of the initiative, the athletes have shared videos that capture why clean sports matter to them, and how doping has impacted individual moments.
British skeleton champion Lizzy Yarnold said she is determined not to let doping steal her moment at the 2018 Winter Games.
Proud to be a part of this. Sometimes you just gotta get serious. #CleanSport ?✊? https://t.co/mP3CmUkpXu

— Lizzy Yarnold (@TheYarnold) October 30, 2017
US paralympian Stephanie Jallen said she had dedicated her life to "earning my moment at the paralympics" and wanted to "show the world short-cuts don't work."
Canadian biathlete Rosanna Crawford echoed the sentiment in her own #MyMoment video.
Stand up for clean sport. #MyMomenthttps://t.co/SkebULmlmp

— Rosanna Crawford (@RosannaCrawford) November 1, 2017
Fellow athletes also threw their support behind the campaign. Here's what some of them told Euronews:
Emma Wiggs, Paralympic gold medal winner
The five-time world champion paracanoeist in the women's 200m KL2 class said she was backing the movement because she is "passionate that the spirit and values of sport are so important we must protect them."
"I sadly don't believe we will ever totally rid elite sport of people attempting to cheat and dope, but we must be solid in our belief that clean sport is the way forward. Sport is such a powerful tool in many people's lives and it is vital that we protect the integrity of those who work so hard to be sportsmen and women and role models for society," she said.
"We must make it harder and harder for people to cheat, to steal others' 'moments' and to undermine all that is good about sport. I would like to think we could aspire to a future where cheaters are caught and should they return after a ban is served they never are given a 'podium moment' again."
Christine Girard, Olympic bronze medalist
Canadian weightlifter Girard said it is important to support campaigns like #MyMoment because "doping hurts in many more ways than we can think of."
"First of all, doped athletes damage their body more than anyone can think of. Also, it is truly unfair for athletes who, like me, choose the clean way to find our limits. I completely missed the podium in Beijing 2008 due to doping of my competitor. For many years, I felt like a failure because I finished 4th, three kilos away from the bronze medal," she said.
"The reality is that I shouldn't have felt that way. I should have been able to celebrate the first medal in weightlifting for a female in my country. Four years later, I was celebrating a bronze medal in London; but it should have been gold. I do understand the importance of clean sport, and I think we need to promote the values of fairplay worldwide, which is exactly what #MyMoment is about."
Sports organisations and social media users have also praised athletes for their involvement in the campaign.
#MyMomenthttps://t.co/3uPhUP4zKA
Well done to these athletes for standing tall, speaking up and defending clean sport

— Beckie Scott (@BeckieScott4) November 1, 2017
We're standing with athletes worldwide as they speak out for clean sport at #PyeongChang2018 and beyond.

➡️ https://t.co/XgC3xrbzj4#MyMomentpic.twitter.com/6qiHx7WobI

— Team GB (@TeamGB) October 30, 2017
Unite with #cleanathletes to fight for #cleansport in #PyeongChang2018. #MyMomenthttps://t.co/nSVArPsOjJpic.twitter.com/Euoa6qMQkv

—

USADA

(@usantidoping) October 30, 2017
Earlier this year, a Harvard University study was published based on anonymous surveys at two elite athletics competitions in 2011, which found that up to 57% of competitors admitted doping in the previous 12 months.
The figure far surpassed the 1-2% identified by blood and urine tests carried out by the World Anti-Doping Agency (Wada), and the 14% prevalence estimated from the athlete biological passport.