Life in the "Republic of Catalonia" comes with strong emotions
Comments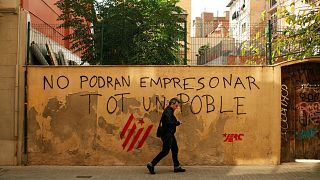 The opinions expressed in this article are those of the author and do not represent in any way the editorial position of Euronews.
By Anna Lladó Ferrer
Covering politics in Catalonia is like going from one extreme to another; from rejection to unconditional love towards the deposed president, Carles Puigdemont. We have seen slogans like "Puigdemont, to prison" at pro-union rallies last Sunday. While a couple days before a woman shouted "Puigdemont is the best president in history" in front of the headquarters of the Catalan European Democratic Party. But of course, not everything is white or black. There are people who don't identify with one group or the other.
But now everybody is shifting their attention to the elections on December 21. Some citizens see the vote with resignation, as they are aware that the declaration of independence hasn't been fulfilled. "Will we restart the independence process if the secessionist movement wins again?" ask people on social media who want to establish the Catalan Republic as soon as possible. Others see the elections with hope, as an opportunity to defeat separatism at the polls.
After the declaration of independence and the application of Article 155 of the Spanish Constitution that allows the central government to impose direct rule on the Catalan region, strong emotions have turned up in Catalonia. Uncertainty, happiness or sadness are some of the most common feelings among citizens, depending on their political leaning.
Ivan Naval, an economist and a pro-independence supporter, says that he has mixed feelings: "Happiness over the new country, but also indignation over Article 155." Despite the declaration of independence, he admits that "[Catalans] are not really living in the Catalan Republic. It's a long process and we are just at the beginning."
Robert Munné, an anarchist student of Philosophy, says that "despite the Spanish government triggering Article 155, Catalonia will become independent." But for now, "life goes on."
And indeed, nothing seems to have changed in the streets, shops and businesses. "Everything is as usual here, same customers, same purchases," said an employee of a supermarket in Ramón y Cajal street, in Gracia's district.
Many others like Carles Bruguera, an economist in favour of the unity of Spain, are sad. "Pro-independence parties cannot destroy a country with only seventy votes (52 percent)."
"I was embarrassed those that allowed the approval of the declaration. "It was embarrassing," Bruguera added.
"The session in the Catalan Parliament and the whole process that has taken us here could be a television series. We have seen many plot twists" said Miquel Pellicer, a journalist expert in corporate communication.
In a matter of hours, we went from a scenario based on snap elections to a declaration of independence. The latter caused tears of joy and euphoria among pro-independence supporters and anger and fear among detractors. Forty-five minutes later, the Spanish Senate gave the green light to Article 155 and Mariano Rajoy called for snap elections on December 21.
The political situation has risen doubts among citizens. Is Puigdemont the president of Catalonia still? Catalans asked themselves a day after the declaration. For many, yes, for others, no. Why does the Spanish flag wave above the government building if Catalonia is already a Republic? And to add more suspense to the story, Puigdemont and members of the Catalan government appeared by surprise in Belgium on Tuesday.
A 'Catalan saga' full of symbolism goes on with Puigdemont's last statements. We have seen him in front of a door that was first opened, then almost closed and finally closed. Dialogue with the Spanish Government? "In political communication it's sometimes more important what you don't say than what you say. Politics is full of symbolism," Miquel Pellicer says.
Anna Lladó Ferrer for euronews.
Opinions expressed in View articles do not represent those of Euronews