"We were told that if the Spanish police asked us about the lessons we were receiving, we should answer that we were learning French."
Earlier this month, the president of leading Catalan separatist group Òmnium Cultural was detained amid the biggest political crisis in Spain in decades.
The Barcelona-based group had a key role in pushing for the October 1 referendum, deemed illegal by Madrid, and its leader, Jordi Cuixart, is accused of sedition for allegedly organising demonstrations to try to stop police officers from following a judge's orders to halt the vote.
When Rita Castellà heard the news of Cuixart's arrest she was devastated.
"It is very sad to see an innocent [man] in prison… Many Catalans consider he has been chosen by Madrid's powers as a scapegoat," she told Euronews.
But beyond feelings of injustice, Rita had more personal reasons for her reaction.
She first came into contact with Òmnium 50 years ago, when she was just 13 years old.
For as long as she can remember, Rita says she has had a strong sense of Catalan identity. But like other people growing up in the era of military dictator Francisco Franco, it was stunted amid policies banning the use of the Catalan language in schools and public administration.
It was this conflict between identity and opportunity that led Rita into contact with Òmnium, which had been established in 1961 by a group of leading industrialists to promote the Catalan language and culture.
The group was officially shut down in 1963, but continued to operate secretly before being legally recognised in 1967, leaving it to navigate through the murky conditions of Franco's language policies.
It was around this time that famed Catalan professor Joan Corominas began paying frequent visits to the small hotel Rita's parents ran for lunch with a group of international students.
"It was very hard for me, as a Catalan speaker, to understand how students from around the world would come to my home town to improve their Catalan knowledge, and I couldn't learn it or even speak it at school, being my mother tongue," she said.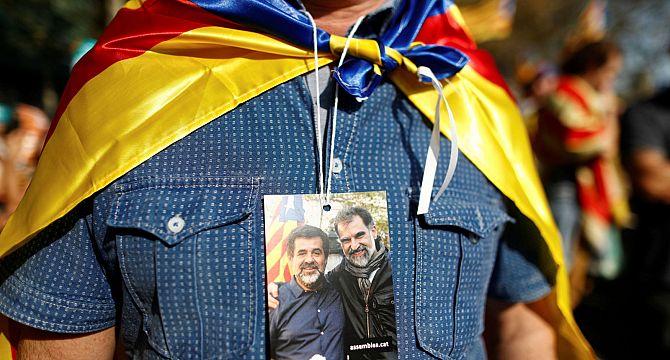 "Obviously, the reason for that is that my language was forbidden at that time under Franco's dictatorship. That bizarre situation opened my mind and encouraged me to start learning how to write in my language."
After expressing her desire to learn the language herself, Professor Corominas put her in touch with Òmnium.
Rita soon began attending lessons in the local library.
"Since they were illegal, we were told that, in case the Guardia Civil [Spanish police] asked us about the lessons we were receiving, we should answer that we were learning French," she said.
While Rita found that her mother-tongue was "not an easy language to write", after a number of months she was able to put pen to paper correctly.
Òmnium is no stranger to taking a central role in tense political times, but as its leader sits in prison facing an uncertain future, Rita recalls an organisation dedicated only to teaching her what no one else would.
"In the lessons we never spoke about politics. They were just language and writing classes," she said.
Hot Topic
Learn more about
Catalonia