Voters go for change and lean towards the Left in general election
Comments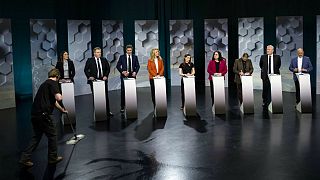 Iceland's ruling centre-right parties under Prime Minister Bjarni Benediktsson have lost their majority opening up the posibilty of left-leaning Katrin Jakobsdottir taking over.
Iceland's president is expected to call on the eight parties which have won seats in the 63-member parliament to see who can pull a coalition together.
Normally he would call on the party with the most seats which would be Benediktsson's Independence Party
but the Left-Green movement says they deserve a chance.
The new kid on the bloc the Centre Party which was only formed in September by former Prime Minister Gunnlaugsson surprised many by winning 11 seats and could put his in the role of kingmaker.
Polls heading into the election showed nearly half of voters would like to see Jakobsdottir as their next prime minister. If she does get the opportunity it will be only the second time Iceland has had a centre-left coalition since it won independence from Denmark in 1944.
The Left-Greens have pledged to fund increase in public health care and education by raising taxes.
Iceland leans toward leftist government in snap election https://t.co/O3sHceBuP1

— Reuters Top News (@Reuters) October 29, 2017
Results
The Independence Party: 25.2 percent or 16 MPs
Left-Green Movement: 16.9 percent or 11 MPs
The Social Democratic Alliance: 12.1 percent or 7 MPs
The Center Party: 10.9 percent or 7 MPs
The Progressive Party: 10.7 percent or 8 MPs
The Pirate Party: 9.2 percent or 6 MPs
The People's Party: 6.9 percent or 4 MPs
Reform Party: 6.7 percent or 4 MPs
Other parties did not achieve the 5 percent voter support needed to be represented in Alþingi, the Icelandic parliament.