Record high in atmospheric CO2 levels reached in 2016
Comments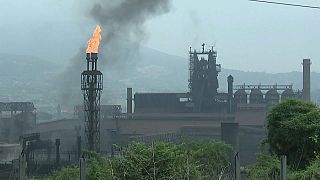 The amount of carbon dioxide in the earth's atmosphere grew to a record high in 2016, according to the United Nations.
Last years increase was 50% higher than the average of the past 10 years.
Researchers say a combination of human activities and the El Niño weather phenomenon drove CO2 to a level not seen in 800,000 years.
The rise could potentially fuel a 20-metre rise in sea levels and add 3 degrees to temperatures.
Scientists say this risks making global temperature targets largely unattainable.
The report has been issued a week ahead of the next round of UN climate talks, in Bonn where negotiators will be working on guidelines for the Paris climate agreement backed by 195 countries in 2015
The agreement is already under pressure because U.S.President Donald Trump said that he intends to take the US out of the deal, which seeks to limit the rise in temperatures to "well below" 2 degrees Celsius (3.6 Fahrenheit) above pre-industrial times.
This year's greenhouse gas bulletin produced by the World Meteorological Organization, is based on measurements taken in 51 countries.
Research stations dotted around the globe measure concentrations of warming gases including carbon dioxide, methane and nitrous oxide.