Man's best friend: This rescue dog's training may save your life
Comments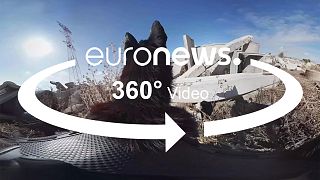 The Spanish Military Emergency unit is a branch of the country's Armed Forces. It is responsible for providing disaster relief throughout Spain mainly, and abroad.
Its a standby unit for when emergencies strike; such as we have seen in Haiti, Nepal, Ecuador and recently in Mexico.
One of the key components is a canine unit comprising dogs specialising in the search and rescue of victims of catastrophes, dead or alive.
"The objective of the canine team is to facilitate and speed up the task of finding victims," says Corporal Felipe, dog instructor at Second Battalion Emergency Intervention.
"We try to optimize this task by training our dogs daily."
Landslides, collapsed structures and large areas are the emergencies where the dogs need to hone their skills, it is a programme that is accredited by United Nations Urban Search and Rescue units.
They receive specialised training for being able to face different circumstances and risks quickly because, in an emergency situation, time is crucial.
"Tipi" is a female dog specialised in searching for corpses. The second battalion has six dogs specialised in searching alive victims and two in searching corpses.
She searches for human scent that floats in the air, without following a trail.
The daily training establishes a strong bond between the dog and its guide, including not only searching skills and physical form but also socialising, overcoming anxiety in stressful situations and obedience.
In a real-life situation, after the dog marks the position of a victim, the technical search team determines the best way to rescue him with visual and acoustic cameras.
"The training of dogs is based on the game. The objective is that the dog finds the victim, marks it. Then, we reward the dog with a toy."
It is estimated that a trained dog can scan an 100 m2 area surface in five minutes, while an equipped human would do the same in at least 45 minutes.
Much part of this training is aimed at enhancing the intuition and autonomy of rescue dog for those occasions when it will be alone, and it will need to resolve the situation by itself.
In the case of alive victim search, it is usual that the extra (called "figurante") rewards itself the dog. This reinforces the relationship between the dog and the search of victims.
There are 36 canine teams, dog-guide and in pairs, that are ready to roll in one hour and able to board a plane in 2,5 hours.
Recently, the second battalion's canine unit helped out in the aftermath of the Mexico's earthquake. The work of these dogs and guides made it possible to recover the corpses of around 40 victims.