Iceland's ruling conservatives weakened in snap vote
Comments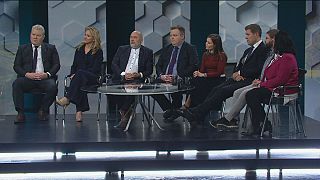 Iceland's main centre-right party polled the most votes in a snap election, but its ruling coalition appears to be falling apart, according to results released on Sunday.
The Independence Party, which has dominated Iceland's politics for decades, is losing its grip as left-leaning parties rise. It stood to lose 4 percentage points compared to an election last year, to land 25 percent of the vote.
Incumbent Prime Minister Bjarni Benediktsson played down his party's drop in the polls, saying. "Elections are about getting votes. And we got the most."
The Left-Greens came in second with about 17 percent. Their leader Katrin Jakobsdottir now looks set to secure a narrow majority in parliament by teaming up with other left-leaning parties, particularly the Social Democrats which came in third with 12 percent – almost doubling its share of the vote from a year ago.
The left-leaning coalition of the Left-Green Movement, the Social Democrats, the Progressive Party and the Pirate Party won 32 seats in the 63-member parliament, the narrowest possible majority, polls published by state broadcaster RUV showed.
If previous elections are any indication, it could take weeks before a new coalition government is formed.
Jakobsdottir has not ruled out working with the newly formed Centre Party, led by former Prime Minister David Gunnlaugsson, which collected around 11 percent of the vote.
Gunnlaugsson was forced out of office last year when his name appeared in the Panama Papers tax evasion scandal.