What on earth is going on in Catalonia?
Comments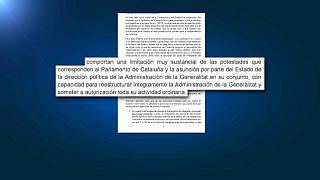 Even within a period of already heightened tension amid the constitutional arm-wrestling between Barcelona and Madrid, this 48-hour period has been described as a crunch time.
All eyes had been on Catalonia's president, who after a day of delays and uncertainty, finally announced that there would be no early regional elections. But there was no formal declaration of independence from Carles Puigdemont either. Instead he said the Catalan parliament would decide.
It seems that once again the ball has been lobbed back into Madrid's court in an increasingly tense and aggressive bout of constitutional tennis, with Catalonia's future at stake.
The Catalan leader said the calling of elections would need guarantees from Madrid that had not been forthcoming, and he again called for dialogue.
The speculation over what Puigdemont would say on Thursday afternoon had reached fever pitch, after Spain's national government announced plans to impose direct rule on the region via Article 155 of the Spanish constitution.
Would he go ahead and declare independence, as many followers outside the government offices in Barcelona were hoping he would? Or would he back down, suspend the action and call regional elections?
Firstly, Catalan officials announced that his declaration – set for early afternoon – had been delayed. Then they said it had been suspended.
The President's Official Statement has been postponed for one hour until 2.30pm https://t.co/8VALlLYTHc

— Catalan Government (@catalangov) October 26, 2017
Then they said he would speak at 5pm.
Further postponed until 5pm https://t.co/XwuNnOgOLa

— Catalan Government (@catalangov) October 26, 2017
There have been reports that Puigdemont's pro-independence coalition is under enormous strain. On Wednesday night they held a seven-hour meeting to try to reach a common position. No conclusions were announced.
Some separatist leaders want Catalonia to declare independence unilaterally and proclaim a republic. There have been reports of resignations over what some feared would be a climbdown if independence was not announced, and elections were called instead. One party said it would withdraw its support for Puigdemont if there was a snap election.
Many feel strongly that the result of the October 1 referendum – a vote declared illegal under the Spanish constitution – gave the region a mandate for independence. The regional government's deputy premier Oriol Junqueras told the AP news agency that the Spanish government had "left us with no other option".
Some reports suggested that Puigdemont had delayed his statement because he thought that announcing elections would not be enough to make Madrid back down over its intention to activate Article 155.
Does anyone know what's going on anymore? Anyone? pic.twitter.com/tLXVXkCeZ2

— Andrew Connell (@andrewiconnell) October 26, 2017
Earlier the Catalan leader wrote to the Spanish Senate arguing the government's plan to intervene in the region's autonomy was unconstitutional. On Thursday the Catalan parliament was due to begin a two-day debate that could potentially end with a formal declaration of independence.
After Puigdemont's announcement, Spanish Deputy Prime Minister Soraya Saenz de Santamaria defended the government's use of Article 155 in the Senate. She said the Catalan situation had come about because of an "enormous political irresponsibility".
The Spanish Senate is due to vote on triggering Article 155 on Friday, and is widely expected to do so. Under the article, which has never before been used, Puigdemont's government could be relieved of its powers and new regional elections called within six months.
However, much uncertainty remains. How far will the Madrid government enforce its authority in practical terms? How would Catalans respond, in public services, in the police, in the streets?
With Puigdemont pleasing neither side, all eyes shift to the Senate in Madrid, and the outcome of the debate in the Catalan parliament. The region, like the rest of Spain, not to mention much of Europe, remain on tenterhooks.
Catalonia is one of Spain's 17 regions and has one of the greatest levels of autonomy, with its own parliament, government and president, police and public broadcaster. The region has a range of powers ranging from culture and the environment, to transport and business.