Charline Van Snick as good as gold at Abu Dhabi Judo Grand Slam
Comments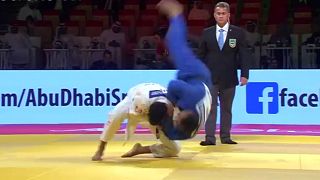 On the first day of action at the Abu Dhabi Judo Grand Slam Belgium's Charline Van Snick beat Brazil's Erika Miranda as she took her first ever Grand Slam gold medal. She was our player of the day.
The under 52 kilograms final was a thrilling contest. After scoring waza ari, and with Van Snick in a seemingly innocuous position on her back, she worked a clever armlock, surprising the Brazilian and forcing her to submit!
"I feel so happy, it was an amazing day for me," said Van Snick.
"Everything was so clear today, I realized my skills in -52… How good I can be, it was real quick."
Excellent and motivating gold medal for Belgians Charline van Snick https://t.co/p8FZd571y6#JudoAbuDhabi2017pic.twitter.com/94BTBZ8KIE

— JudoInside.com (@JudoInside) 26 October 2017
Romania's Alexandra-Larisa Florian produced more great judo in the category to take one of the bronzes by throwing Angelica Delgado of the USA for ippon with a fantastic uchi mata. It completed a podium of fully deserving medalists in Abu Dhabi!
In attendance at the event was his Highness Sheikh Nahyan Bin Mubarak Al Nahyan, Minister of Culture and Knowledge Development for the United Arab Emirates. He was watching alongside the IJF President Mr Marius Vizer as Irina Dolgova took gold for Russia against Milica Nikolic.
Sharafuddin Lutfillaev of Uzbekistan was the stand-out performer at under 60kg, taking bronze in style against Kazakhstan's Gusman Kyrgyzbayev with a spectacular uchi mata ippon.
The Uzbek had the power to launch his opponent through the air and the control to place him on his back.
President Vizer presented the categorie's gold medal to european champion Robert Mshvidobadze, who took his first grand slam gold medal by beating Brazil's Felipe Kita-dai in the final by penalties.
There was a win for world bronze medallist Tal Flicker of Israel at under -66 kilograms. He defeated Nijat Shikhalizada of Azerbaijan in the final with a dropping shoulder throw for ippon.
It was a third world judo tour gold of the year for Flicker. It's turning in to a year to remember for the new world number one.
WATCH-Mazeltov to ISRAELI Tal Flicker winning GOLD at #JudoabuDhabi2017 despite being forced to compete under flag of IntJudoFed</a>. <a href="https://twitter.com/hashtag/Backfiring?src=hash&ref_src=twsrc%5Etfw">#Backfiring</a>!! <a href="https://t.co/paGCCUBUH0">pic.twitter.com/paGCCUBUH0</a></p>&mdash; SussexFriendsIsrael (SussexFriends) 26 October 2017
Olympic Champion Rafaela Silva of Brazil took on World Champion Mongolia's Sumiya Dorjsuren in the under 57kg final in an eagerly anticipated rematch of the Olympic final.
Dorjsuren reversed the result from Rio with a waza ari in Golden Score from a clever dropping shoulder throw. The world number one added yet another gold medal to her collection, and reinforced her dominance as the current queen of the category.
Sumiya Dorjsuren takes that revenge match against Rafaela Silva #JudoAbuDhabi2017https://t.co/WgDAMnPWfU gold for Mongoljudo</a> <a href="https://t.co/S49J6gtTnH">pic.twitter.com/S49J6gtTnH</a></p>&mdash; JudoInside.com (JudoInside) 26 October 2017
Our move of the day came from Kazakhstan's Kyrgyzbayev who threw Yiu Long Lai of Hong Kong with a phenomenal example of Ura Nage. Judo's most devastating counter attack.