'Hands off our saint': controversial film about Russian tsar's affair opens in Moscow
Comments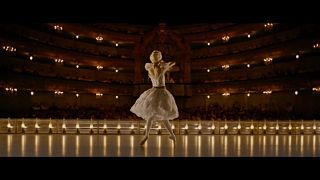 A film about the last Russian tsar's affair with a ballerina is set to be released in cinemas on Thursday, despite outrage from hardline nationalists and Orthodox believers who consider it blasphemous.
"Matilda" tells the story of the romance between Emperor Nicholas II and prima ballerina Matilda Kshesinskaya, and some have called the movie's depiction distorted and vulgar.
Orthodox leaders glorify the tsar as a saint and say his private life is off-limits.
"You need to respect people. Freedom without bounds is lawlessness and chaos," Russian lawmaker Natalya Poklonskaya, who spearheaded a campaign to ban "Matilda", said earlier this month.
The campaign that started nearly a year ago to protest the film's release took a violent turn in recent months, with two cars set on fire outside the office of the director's lawyer. Unidentified assailants also threw Molotov cocktails at director Alexei Uchitel's studio.
Uchitel said shortly before the premiere on Tuesday (Oct. 24) that just getting the movie in front of a theatre audience was an achievement.
"It's not just a victory for the film, but it's a victory for all reasonable people," he said.
The lawmaker also thinks Uchitel should be accountable to Russian taxpayers who might be offended by the film because the production received state funding. Uchitel said one-third of the budget for "Matilda" came from state coffers.
Seven arrested
Seven people protesting against the film's premiere in Moscow were arrested on Tuesday, AFP news agency reported, citing Russian police. All were Orthodox militants, according to the state news agency TASS.
The controversy around the film reflects the growing influence of radical religious activists in Russia, which is causing concern among artists.
In September, Russia's largest cinema chain said it had contacted police and would not be showing "Matilda" because of safety concerns. The chain eventually decided to screen the film after all after receiving assurances from police.
Four people were arrested after several cars outside the office of Uchitel's attorney were set on fire last month. The suspects included Alexander Kalinin, the leader of an obscure Christian Orthodox group who publicly condoned the vandalism.
The tsar and his family were executed by a Bolshevik firing squad in July 1918. The Russian Orthodox Church made them saints in 2000.