Dozens die in ISIL 'reprisal killings' in Syria
Comments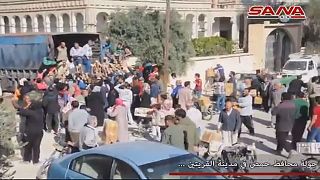 At least 60 people died and dozens are missing in what's been reported as reprisal killings by ISIL or self-styled Islamic State in the Syrian town of al-Qaryatayn.
Syrian allied forces regained control of the town at the weekend and have recovered and identified several of the bodies. Most are believed to have been shot by the jihadists for 'collaborating'.
IS fighters had seized the town from government forces in a counter attack. The civilians were reportedly killed just hours before the Syrian's retook it.
The UK-based Syrian Observatory for Human Rights which relies on a network of sources inside Syria claims the victims were mainly public employees.
The town lies west of Deir al-Zor city which is the current focus of a Syrian government offensive against the jihadists, supported by Russian jets and Iranian-backed militias.