Trouble and strife for EU over autonomy and independence demands
Comments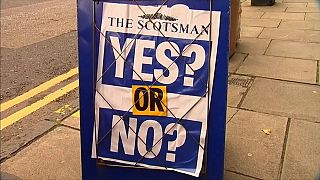 For some people no doubt, this current series of calls for independence or greater autonomy started in Scotland.
It rejected a referendum three years ago on breaking away from the United Kingdom but the Brexit vote has raised the question again as Scots made clear they want to remain part of the EU.
To settle the matter, Scotland's First Minister Nicola Sturgeon has promised to hold another referendum by 2019 at the latest.
The European Union map could end up being totally redrawn if several other regions vote to separate from their mother states.
Many already enjoy a large degree of autonomy; but they either want more control over their budgets or a redistribution of common funds.
Regional autonomy movements in the EU… #eu#europe#referendum#autonomy#eumappic.twitter.com/Oaydj5AHfC

— Turexit (@TurexitEU) October 23, 2017
Flanders in Belgium is one of the best examples of a highly complex situation. The Dutch-speaking nationalist parties which govern the prosperous northern region no longer want to pay for its poorer southern neighbour, French-speaking Wallonia. Belgium's most powerful political party is the N-VA, a centre-right nationalist party whose manifesto explicitly called for Flanders to separate from Belgium and become a sovereign member state of the EU. But it has soften its stance since becoming a key part of Belgium's coalition government; which has given its support to Madrid over the Catalan crisis.
Denmark's Faroe Islands no longer want to wait. The tiny self-governing archipelego of 50,000 people will hold a referendum in April next year on a new constitution. The drive for total independence has been fuelled by the discovery of oil and natural gas deposits.
The EU has always wanted "A Europe of regions governed by Brussels". Regional autonomy movements (Spain, Italy) rather play to that agenda.

— Roger Helmer (@RogerHelmerMEP) October 23, 2017
It's been nearly 20 years since New Caledonia voted for progressive autonomy but time has only increased fervour to move away from France.
Next year the South Pacific islands will hold another vote on its independence and nationalists there are hoping the Spanish separatist movements will provide succour.
Sentiments shared by some nationalists in Corsica, hoping to be part of a domino effect. Even if the armed struggle has been abandoned, moderates there are said to be patiently waiting for the tide to turn in the court of public opinion in order to hold a referendum.